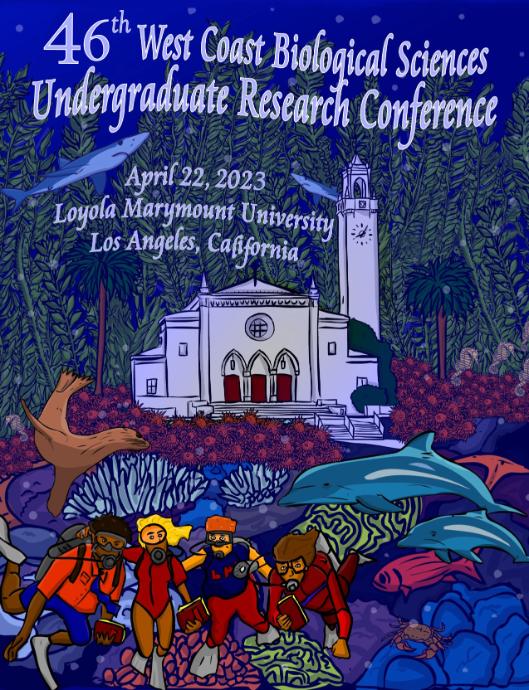 The 46th West Coast Biological Sciences Undergraduate Research Conference will be held in Los Angeles at Loyola Marymount University on Saturday, April 22nd, 2023, from 8:00 a.m. to 5:00 p.m.
WCBSUR Conference History:
The West Coast Biological Sciences Undergraduate Research (WCBSURC) Conference is among the oldest, intercollegiate conference of its kind in the nation and has been attended by students and faculty representing 200 instiutions in 40 states and Canada over it's 45 years. Founded in 1976 by Dr. William Eisinger, Professor of Biology at Santa Clara University, it was hosted by Santa Clara every year until 1986, when other institutions began sharing the responsibility, among them Colorado College, Loyola Marymount University, Occidental College, Pacific Lutheran University, Point Loma Nazarene University, the University of California at Irvine, the University of San Diego and the University of San Francisco. As of 2022, the WCBSUR Conference has drawn participants from 200 institutions in 40 states and Canada (see below). The purposes of the Conference are: 1) to provide a forum for undergraduate researchers to present original data they have generated in the fields of biology and biochemistry; and 2) to foster intercollegiate interactions among students and faculty who share a commitment to undergraduate research in the biological sciences.
Important Dates:
Friday, February 3, 2023: Abstract submission and registration open.
Monday, March 13, 2023: Deadline for abstract submission and early registration ($40 students/ $50 faculty).
Travel and Accommodations:
More information will be available on this website by January, 2023.
Questions can be sent to wcbsurc@lmu.edu.