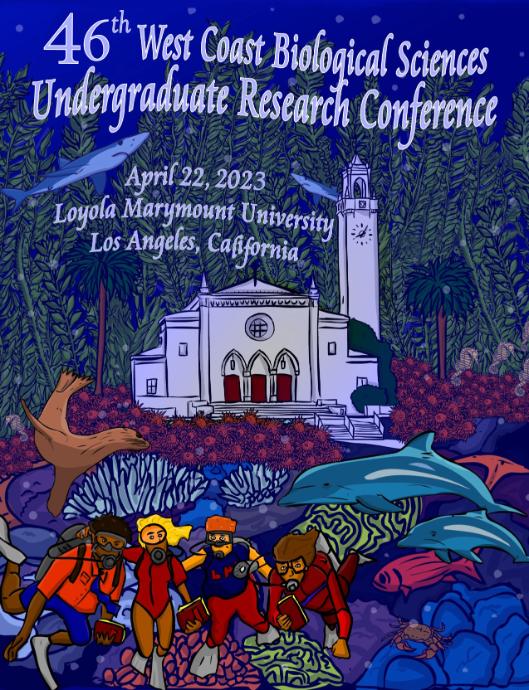 The 46th West Coast Biological Sciences Undergraduate Research Conference will be held in Los Angeles at Loyola Marymount University on Saturday, April 22nd, 2023, from 8:00 a.m. to 5:00 p.m.
WCBSUR Conference History:
The West Coast Biological Sciences Undergraduate Research (WCBSURC) Conference is among the oldest, intercollegiate conference of its kind in the nation and has been attended by students and faculty representing 200 instiutions in 40 states and Canada over it's 45 years. Founded in 1976 by Dr. William Eisinger, Professor of Biology at Santa Clara University, it was hosted by Santa Clara every year until 1986, when other institutions began sharing the responsibility, among them Colorado College, Loyola Marymount University, Occidental College, Pacific Lutheran University, Point Loma Nazarene University, the University of California at Irvine, the University of San Diego and the University of San Francisco. As of 2022, the WCBSUR Conference has drawn participants from 200 institutions in 40 states and Canada (see below). The purposes of the Conference are: 1) to provide a forum for undergraduate researchers to present original data they have generated in the fields of biology and biochemistry; and 2) to foster intercollegiate interactions among students and faculty who share a commitment to undergraduate research in the biological sciences.
Registration Information:
Registration is $50 and includes continental breakfast, lunch, and afternoon snack.
Click here.
Parking:
Visitors must enter from the main gate on Lincoln. Parking is free on weekends. Recommended lots are the Featherston lot and Hannon (Lot A). Vans will need to park in Lot A. If you have questions or would like a map, you can stop at the kiosk when you enter campus.

Find Map and Directions here.
Registration Desk:
The Registration Desk is located on the Pereira front lawn and will be open from 7:45 am – 5 pm for registration and any questions related to the conference.
Baggage Check:
A Baggage check is on the first floor of Featherston, in FEA 141, in the wing near the FEA auditorium. Hours for the Baggage check are 7:45 am – 5 pm.
Links to program, overview and map:
Conference Progam - Click here
Conference Overview - Click here
Map for parking and venue - Click here
Plenary Speaker:
Dr. Victoria L. Sork
Distinguished Professor, Department of Ecology and Evolutionary Biology
Distinguished Professor, Institute of Environment and Sustainability
Director, UCLA Mildred Mathias Botanical Garden
UCLA
"Why Trees Go Nuts: Climate | Birds | Cultures"
We are happy to announce that the Keynote Speaker will be Dr. Victoria Sork, Distinguished Professor of Ecology & Evolutionary Biology and Director of the UCLA Mathias Botancial Garden and Herbarium.
Find Dr. Victoria Sork's biography here.
Oral Presentation Information:
The oral presentations are scheduled as concurrent sessions during the morning and afternoon. Each talk is allotted a 15 minute time slot with 10-12 minutes for the presentation and 2-3 minutes allotted for questions and the transition between presenters.

All presentations will be given in Microsoft PowerPoint from a classroom computer (Windows operating system). Presenters will also be given a link where they can upload their presentations ahead of time. If the presentation is uploaded on site, you will need to bring a USB drive as you will not be allowed to access your slides through Google Slides, project from a laptop, or download from your email during the session. Please upload your presentations prior the conference (but bring a USB drive as backup). You will need to come by your conference room 15 or more minutes prior to your presentation time to check your slides for correct formatting or to upload them if necessary.
Oral Presentation Times:
Morning Oral Session: 10:15-11:30 am
Presentation upload:
Upload/ check your slides at least 15 minutes prior to the session start. Bring a USB drive as backup.
Session 1: Cell and Developmental Biology A
Session 2: Ecology A
Session 3: Ecology B
Session 4: Neurobiology A
Session 5: Physiology and Anatomy
Session 6: Molecular Biology A

FEA 120
Seaver 100
Seaver 200
Pereira 140
Pereira 109
Pereira 121
Afternoon Oral Session 2:00 – 3:30 pm
Presentation upload:
Upload/ check your slides at least 15 minutes prior to the session start. Bring a USB drive as backup.
Session 7: Ecology C
Session 8: Cell and Developmental Biology B
Session 9: Biochemistry
Session 10: Molecular Biology & Microbiology B
Session 11: Genetics
Session 12: Neurobiology B

FEA 120
Seaver 100
Seaver 200
Pereira 140
Pereira 109
Pereira 121

Awards will be given for the best oral presentations in each of the concurrent sessions.

Poster Information:

The posters should measure 48" wide X 36" tall or smaller. Pushpins will be provided.
There are two one-hour poster sessions.
Location: Hannon Courtyard at the Featherston Life Science Building
Poster Times:
Session A:

Poster Set-up: 7:45-8:45 am

Poster Viewing: 9 am – 12:30 pm

Poster Presentation: 11:30 am - 12:30 pm

Poster Take-down: 12:30

Session B:

Poster Set-up: 12:30-12:45 am

Poster Viewing: 12:45 – 4:15 pm

Poster Presentation: 12:45 – 1:45 pm

Poster Take-down: by 4:30 pm
Presenters will stand by their poster during the designated presentation time and posters can remain up for viewing as designated during the times above. Session A posters must promptly be taken down at 12:30 pm so that Session B posters can be put up. Presenters are responsible for putting up and removal of their posters.
Awards will be given for best posters.
Ballona Discovery Park and Wetlands: 4pm on Friday, April 21st and at 5pm on Saturday, April 22nd:
The Ballona Discovery Park is a two-acre native garden and wildlife habitat, where visitors can walk through native plant demonstration gardens and learn about the cultural and natural history of the Ballona Wetlands.
Staff from the LMU Center for Urban Resilience (CURes) will be available to discuss and answer questions about the Discovery Park and Ballona Wetlands. From there, they will point you in the direction to go embark on a self-guided tour of the Ballona Freshwater Marsh.
No RSVP is necessary and all are welcome.
Address:
Ballona Discovery Park
13110 Bluff Creek Drive, Playa Vista, 90094
Street parking is abundant in the area. The Route 3 Big Blue Bus also stops at Lincoln and Jefferson, just a short distance from the park.

Travel and Accommodations:

LMU is in close proximity to LAX International Airport. Note that visitors arriving to LAX will need to take the LAX-it shuttle to access taxis or rideshare services.

Here is a list of hotels that offer special rates to LMU visitors (subject to availability).
LMU COVID Safety Information for Visitors:
https://www.lmu.edu/together/resources/visitorpolicy/
Questions can be sent to wcbsurc@lmu.edu