Master of Science in Engineering in Computer Engineering
The graduate program in Computer Engineering is designed to provide theoretical knowledge as well as practical applications in the areas of computer architecture, embedded systems, computer networks, artificial intelligence, and systems design. In this program, working engineers are given an opportunity to continue their education on a part-time basis, while full-time students have the opportunity to conduct research under the guidance of a faculty advisor.
Attend an Information Session
Loyola Marymount University offers a multidisciplinary approach to computer engineering in proximity to the innovative tech-hub of Silicon Beach and the aerospace/defense industry in Southern California. This flexible and customizable program offers laboratory components for both hardware and software development included in coursework.
The program is advised by an esteemed board comprised of local experts, providing ample networking opportunities for those looking to further their careers in Computer Engineering.
Courses cover industry-relevant topics from machine learning to digital design, with electives and an optional thesis track contributing to the bespoke curriculum that works for any type of student.
Labs and Research
CubeSat Lab
The CubeSat Lab involves students from different programs who collaborate to design, implement, test, and integrate the different subsystems required to demonstrate altitude control via a retractable solar sail using a variety of specified hardware and software.
Deep Learning & Applications
Research in our Deep Learning and Applications Lab implements data preparation, model design and training, performance evaluation and improvement in state-of-the-art deep learning platforms for application in data security, especially for image and video data, in cloud computing and storage.
Intemnets Lab
The Intelligent & Embedded Networked Systems Lab is where students work with intelligent and adaptable wireless networked systems that are aware of the users' activities and their environments with the goal of making them adapt to these variations.

Why LMU?
Courses taught by full-time LMU faculty or part-time faculty actively working in the industry

Strategic location in close proximity to the aerospace/defense industry and Silicon Beach

Small class sizes offer valuable faculty mentorships for professional growth and career advancement

Special-study courses tailored to student needs and interests

Laboratory components for both hardware and software development included in coursework

Covers a broad range of areas in the field ideal for full-time students looking to advance their education and industry professionals ready to move into leadership and administration positions
A people-first curriculum designed with the help of national experts

Follows LMU's mission to encourage learning, educate the whole person, the service of faith and the promotion of justice

Total students: 10,165 — Graduate students: 1,734

Seaver College graduate students: 185

Average Graduate Class Size: 13

Full-time vs Part-time enrollment: 24.3% vs 75.6 %

Male to female ratio: 60.54 % to 39.46 %
How To Apply
Admission Requirements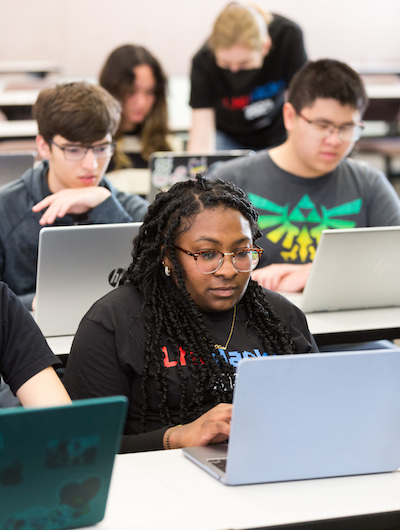 A completed Online Application and $50 nonrefundable application fee
Official transcripts (one copy) of all colleges and universities attended
A personal statement (1-2 pages) that explains how the program fits into your career development
(Optional) Letters of recommendation
The GRE is not required for admission
Start Your Application
Fast Track Options
Eager To Enter The Workforce? Check out LMU's fast-track degree options, where you can earn your graduate degree quickly and start making strides in your field.