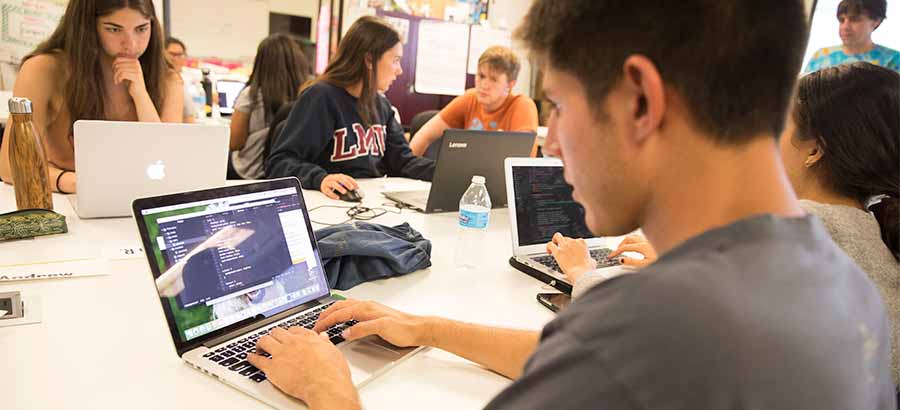 Why Choose LMU for your Master's in Computer Science?
Studying here at LMU allows students an opportunity to experience an interdisciplinary approach to their master's in Computer Science. Students may choose to work with biological databases, 3-D animation, genetic mapping, identity mapping, cubesat programming, artificial intelligence, and virtual world simulations. Located near the dynamic tech-hub of Silicon Beach and the aerospace/defense industry, we continue to build relationships with our neighbors.
The program curriculum offers a wide variety of learning options that tackle current trends in technology. LMU's learning environment capitalizes on our ability to be flexible, custom-designed, industry relevant and collaborative with other engineering and science programs. We are set up to support and fulfill each individual student's goals and professional advancement needs.
Flexible and Custom-Designed
Flexible program designed to meet individual needs and accommodate the schedules of working professionals
Program can be completed in as little as three semesters
LMU undergraduate students have an option to obtain a bachelor's degree and master's degree in Computer Science in our 4+1 Program
Customized
Students can pursue special studies courses tailored to their needs and interests
Thesis or non-thesis options are available
Industry-Focused Professional Development
Industry experts and full-time faculty lead our graduate courses
Small class size offers valuable faculty mentorships for professional growth and career advancement
Prime location nestled in close proximity to Silicon Beach's tech start-ups, aerospace/defense industry
Collaborative and Interdisciplinary
Study alongside faculty with research focuses in artificial intelligence, data analytics, experimental design, decision theory, interaction design, database systems, system architecture, computer vision, language processing, and computer graphics
Computer Science courses are cross-listed with other engineering departments

Master of Science in Systems Engineering courses in cybersecurity and software architecture
Courses in biological databases and 3-D animation are team-taught
Courses are available in virtual world simulations

Our multiple interdisciplinary research projects include the biology (genetic mapping), psychology (identity mapping), and mechanical engineering departments
Join the master's in Computer Science family and advance your technical skills with LMU!
"My journey at LMU was a life-changing experience. LMU fueled my inspiration to expand my knowledge and further develop my skills, not only at an academic level, but also at a personal level. It was wonderful to be part of innovative learning experiences that could span multiple disciplines, and engage in the diversified intellectual community on LMU's beautiful campus. LMU qualified me to exciting positions and degrees in Saudi Arabia, the USA, and Switzerland."