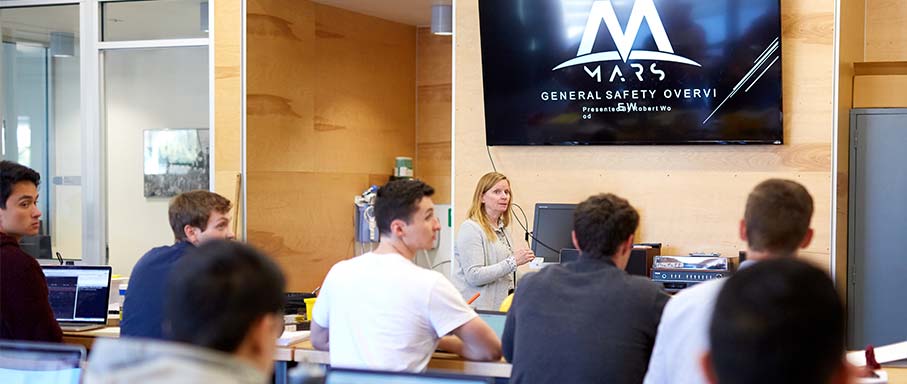 Program Requirements for Systems Engineering Degrees at LMU
The Frank R. Seaver College of Science and Engineering is dedicated to providing a rigorous and industry relevant graduate engineering education that is also customized to the unique needs of each student. As student experiences vary, so do the requirements for each of our distinct programs.
Master of Science in Systems Engineering with an Option for Technical Focus
The M.S. in Systems Engineering with an Option for Technical Focus allows engineering professionals to develop systems engineering skills, project management skills, and deepen their knowledge in a technical focus area of their choice. The options for technical focus areas include: Systems Engineer, Engineering Project Management, Aeronautics and Space Systems, Cybersecurity, Software Architecture, Mechanical Engineering Electrical Engineering, or Civil Engineering.
Graduation requirements are as follows:
Completion of 30 semester hours from the three areas of the program
SELP 500 Systems Engineering
SELP 540 Systems Thinking: Major Tech Changes/Impacts
SELP 550 Systems Architecture I
SELP 600 Advanced Systems Engineering & Program Management
SELP 640 Model Based Systems Engineering
SELP 668 Systems Engineering Modeling and Analysis
SELP 695 Systems Engineering Integrative Project

SELP 510 Project Management
SELP 520 Engineering Leadership and Integrity
SELP 530 Lean Engineering & Management
SELP 576 Buisness Law for Engineers
SELP 577 Engineering Economics and Finance
SELP 620 Manufacturing Processes and Quality Systems
SELP 679 Startup Entrepreneurship, Managing Engineering Innovation

Software Architecture

SELP 651 Software Architecture
SELP 654 Engineering for Autonomy
SELP 657 Agile Software & Systems Project Management

Cybersecurity

SELP 660 Cybersecurity
SELP 662 Secure Software Development
SELP 663 Enterprise Security and Cyber Systems
SELP 664 Cybersecurity Risk Management & Governance

Aerospace & Space Systems

SELP 584 Occupy Mars: Space Travel and Colonization
SELP 586 Launch Vehicle Technology and Design Evolution (virtual)
SELP 670 Spacecraft Design
SELP 672 Spacecraft Communications and Radar

SELP 695 Systems Engineering Integrative Project/Thesis (3 semester hours)

Capstone course in which each student working individually applies and demonstrates the mastery of the systems engineering process to a complex technical and/or social endeavor. This course should be taken in the last semester of the study program.
Overall program GPA of 3.0 or higher
B or higher in all 500-level courses and C or higher in any 600-level course (or course will not be counted toward degree)
The Dual Degree MS in Systems Engineering / Masters of Business Administration (Dual Degree MSSE / MBA) Program
The dual degree program prepares engineering professionals for leadership positions in high technology companies
Graduation requirements are as follows:
Completion of 60 semester hours from the two curriculum areas

The MS in Systems Engineering consists of 10 courses

For the dual degree program 8 courses (24 credit hours) are completed from courses offered in the MS in Systems Engineering Program, including the Capstone/Integrative Project (3 credit hours)
2 MBA courses will satisfy the 2 elective requirements for the MS in Systems Engineering

Completion of MBA Program (51 credit hours), 5 courses from the MS in Systems Engineering are used to satisfy the emphasis/concentration requirements for the MBA degree
Students need to comply with the MBA requirements

Recommended sequence for the degree program:

Year 1: Full course load of systems engineering courses
Year 2: MBA courses starting in the fall semester
Year 3: Electives and Systems Engineering Capstone/Integrative Project Thesis
Note: the selection of classes will be worked out between the student and the directors of the MS in Systems Engineering and the MBA programs
The 4+1 Master of Science in Systems Engineering
The 4+1 master's in Systems Engineering provides current LMU undergraduate students pursuing a bachelor's degree in engineering a pathway to earn a master's in systems engineering after a year.
Graduation requirements:
One Systems Engineering course taken in the student's senior year as an undergraduate elective
Nine Systems Engineering courses