Master of Science in Healthcare Systems Engineering
The Healthcare Systems Engineering M.S. at LMU was one of the first of its kind in the nation. The program is designed to aid highly fragmented, dynamically evolving and highly complex multidisciplinary health care systems. It is mostly a non-mathematical body of knowledge, although some courses use statistics, modeling and simulations, and informatics.
Attend an Information Session
The Need for Healthcare Systems Engineering
For the past decade, the U.S. Council of Advisors on Science and Technology have placed an emphasis on the importance of using systems engineering to solve complex challenges in health care, stating: "implementation bears the potential not only to improve the efficience of care delivery, but also improve its quality."
HSE provides systems-based solutions and helps manage projects that address industry problems in a broad range of areas:
All clinical areas from virtual care to hospitals to pharmacies to labs to administration
Integration of health care elements into patient-focused systems
Collaboration between providers, patients, staff, IT, medical devices, processes, and payers
Optimization of population health, telemedicine, and home care
Electronic records and health care enterprise informatics
Simulations and modeling of operations and economic analysis
Optimization of medical transportation systems
Equity and diversity in health care
Big data analytics
LMU Program Applies Engineering to Healthcare Systems
The comprehensive approach to health care systems is what makes Loyola Marymount University's Health Care Systems Engineering (HSE) Program in the Frank R. Seaver College of Science and Engineering an innovative, and effective training program focused on impactful solutions that will advance health care for everyone.
Read More
From the Director
"I'm excited to be on a new journey as the Director of the Master's degree program in Healthcare Systems Engineering at Loyola Marymount University. In our program, we use the tremendously powerful body of knowledge called Lean Healthcare Systems Engineering to improve processes and systems and reduce the unfortunate amount of fragmentation in the health care universe in the US. With their grounding in Lean, systems thinking, health care IT, quality, and a knowledge of all health care venues, our students are ready to hit the ground running and make an immediate difference."
David Quam, M.D.

Why LMU?
The program maintains close relationships with top health care organizations, providing access to student visits, providing industry-relevant capstone projects to students and facilitating paths to jobs

HSE courses combine academic rigor with a practical focus through integration of patients, providers, staff, IT, devices, and processes

LMU is a pioneer in the field of Lean Systems Engineering, and offers a certificate program for those interested in advancement without an entire M.S. degree

Most faculty members have served in leadership positions at some of the highest-ranking health care institutions and aerospace engineering programs in the nation
A people-first curriculum designed with the help of national experts

Covers a broad range of areas in the field

Ideal for full-time students, nurses, and other health care industry professionals ready to move into leadership and administration positions

Follows LMU's mission to encourage learning, educate the whole person, the service of faith and the promotion of justice

University student to faculty ratio 11:1

Female students comprise 46% of the LMU student body
Student Testimonials
[Written during the pandemic] "Scary time right now! Right now more than ever the healthcare system is showing the evils of fragmentation and the need for HSE professionals…I think once this all settles, this is a great case study and could be a good demonstration of how powerful this degree program can be for our current healthcare system."
Stephen V. Speicher '10, M.S. '19, M.D., Senior Medical Director, Head of Healthcare Quality and Patient Safety, Flatiron Health
Read More Testimonials
Graduate Success
Our graduates have gone on to work in roles in leadership and management at prestigious organizationa on the forefront of the health care industry. With the potential to serve a 3-trillion dollar industry that boasts over 250,000 jobs in the Los Angeles area alone, our graduates are competitive in roles at companies including (but not limited to):
Kaiser Permanente
UCLA Health
Cedars-Sinai
Augmedix
Huron Healthcare
Cerner Corporation
Flatiron Health
Intermountain Health
US Department of Veterans Affairs
Baxter International
Keck School of Medicine/USC
Blackline Health
Optum
Prime Healthcare
How To Apply
Admission Requirements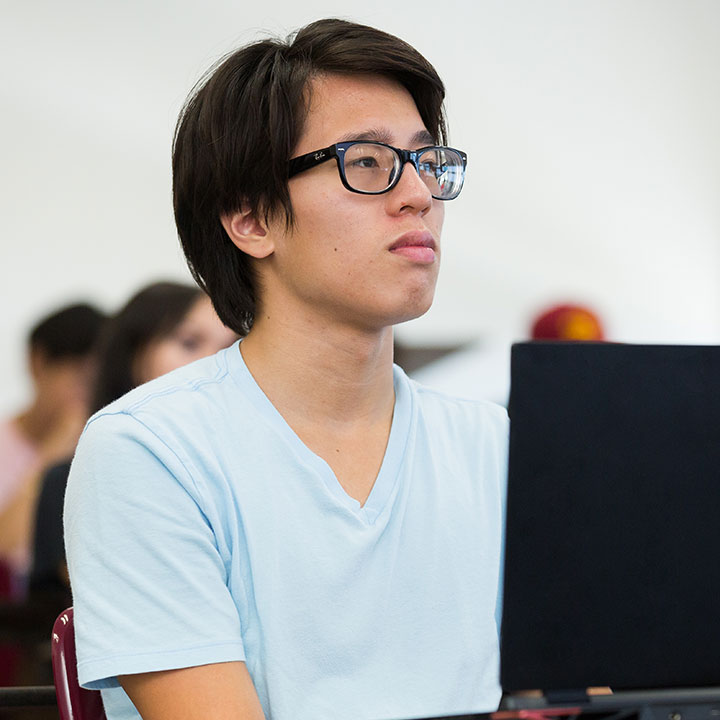 A completed online application and $50 nonrefundable application fee
Bachelor's degree in science or engineering from a U.S. accredited university
Minimum cumulative GPA of 3.0 recommended
Essay demonstrating passion for health care
2 letters of recommendation
Start Your Application
Fast Track Options