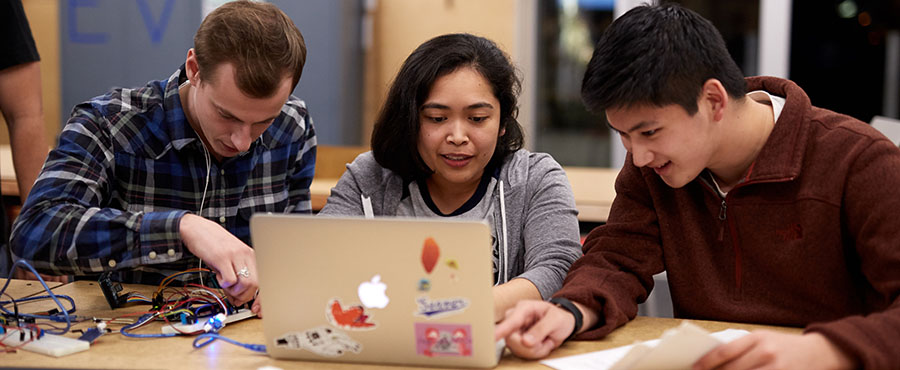 Start your online application now
Admission Requirements for the Master's in Electrical Engineering
We are pleased you are considering LMU for your MS in Electrical Engineering degree. Our program continues to advance in technical relevance as well as attention to student outcomes and career advancement.
Please review the following admissions information carefully:
All applicants must possess a bachelor's degree in Electrical Engineering, Computer Science, or other closely related fields, which may include:

Mathematics through one year of college calculus
Electrical Engineering undergraduate courses including Circuits, Electronics, Signals and Linear Systems, Logic Design

Applicants who do not have adequate background in Electrical Engineering may be required to take additional undergraduate courses.
Transfer Credit: Students may transfer six semester hours for courses completed at another accredited college or university. The credits to be transferred must be taken prior to admission, with each course obtaining a grade of B (3.0) or higher. Transfer credit must not have been used to satisfy degree requirements at another college or university.
How to Apply
To start the application process, please fill out the Graduate Admissions Application.
Applicants should submit:
A completed application form (linked above) and $50 application fee
Official transcripts of all schools attended after high school
Letter of intent (approximately 1.5 pages)
(Optional) Two letters of reference, at least one of which attests to the applicant's previous academic performance and ability to succeed in the program. The other letter can be a professional reference. For applicants who graduated more than 5 years ago, both references may attest to the applicant's professional performance and ability to succeed in the graduate program
International Applicants should submit the items listed above plus the additional items required for international students by LMU Graduate Admissions.
Submission Deadlines
Applications for:
Fall start are due August 15
Spring start are due December 15
Summer session I start are due April 4
Summer session II start are due June 4
International students who need a visa are encouraged to apply three months in advance and no later than the following dates:
| Term | Out of the U.S. | In the U.S. |
| --- | --- | --- |
| Spring | November 30 | December 15 |
| Summer 1 | April 2 | April 23 |
| Summer 2 | May 14 | June 4 |
| Fall | July 15 | August 15 |