Studying electrical engineering at LMU means receiving a world-class engineering education in a setting that allows for creativity and experimentation, with small class sizes and access to cutting-edge facilities. LMU's undergraduate program instills a deep understanding of electrical systems and their construction with a focus on design, teamwork and communication and enables students to use skills learned to help solve real-world problems. Students will work hands-on alongside distinguished faculty, and have the chance to hone in on topic areas of their choice. The work of electrical engineers can be seen in everything from smartphone design and wireless technology to the electrical systems of aircrafts, and after graduation, electrical engineers may find themselves in a variety of environments and industries including leading companies Raytheon, Boeing, CalTrans, and LADWP, and prestigious government sponsored programs by NASA and the National Science Foundation. The research opportunities encouraged at LMU provide a strong foundation for any career journey.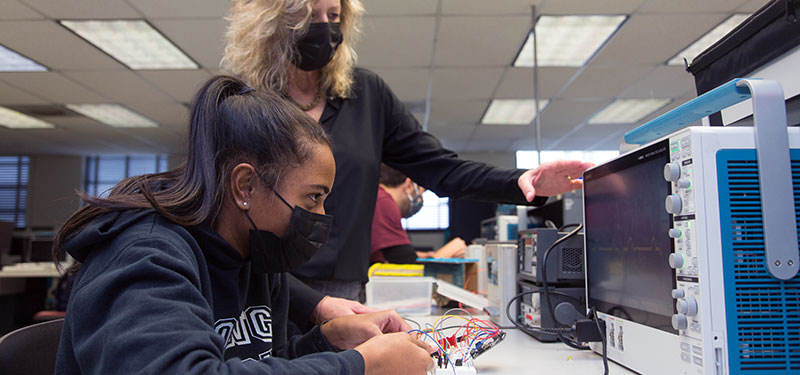 Explore Electrical Engineering Courses
Electrical engineering coursework consists of both classroom and laboratory experiences that support a deep understanding of design, electrical and electronic circuits and models, control systems, communication systems, design of analog and digital systems, and organization and design of microprocessor-based computer systems. Select individual courses below to learn more about specific topics available.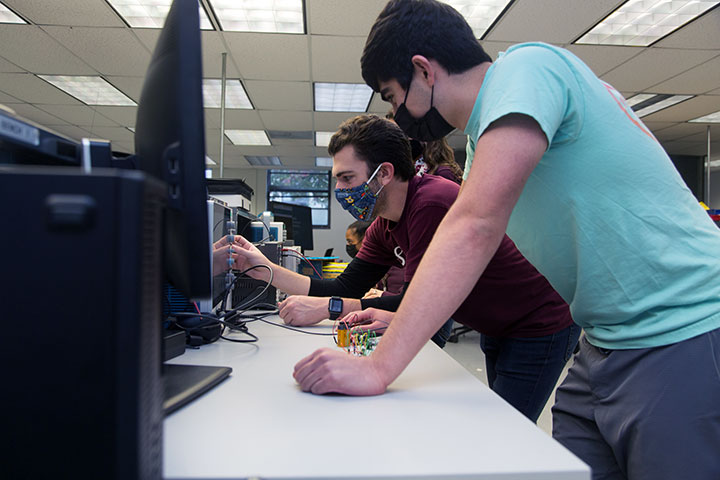 B.S.E. in Electrical Engineering Curriculum
Electrical engineering majors begin their academic experience at LMU with the university's core curriculum and building-block engineering, math, and science courses that will help set them up for success in advanced upper-division and senior project coursework. The program provides introduction to a diversity of research areas and includes the option of an emphasis in computer engineering.
Minor in Electrical Engineering
A minor in electrical engineering is also supported. Course work includes 19 semester hours to be determined in consultation with the Department Chairperson. All minor programs require the approval of the faculty advisor and Department Chairperson from the student's major program of study.
Learn About the Minor Curriculum
Explore Senior Capstones
Seniors must complete a senior capstone project in order to graduate. This final project is students' opportunity to channel what they've learned into solving a problem in their research area(s) of interest or a topic that they're passionate about.
Explore capstone projects from recent electrical engineering graduates.
LMU Smart EV Initiative
Kyle Cullinane and Christian Agbayani developed an autonomous electric vehicle using a high-speed controller area network communication system.
EEG Brain Initiative
Mark Powers and Tyler Poor used machine learning to design a fully functional EEG helmet that could distinguish the thoughts and emotions of a wearer.
Smart E-Bike Conversion Kit and Helmet
Marena Trujillo and Megan West created kits to transform conventional bikes into e-bikes that include built-in added safety protections.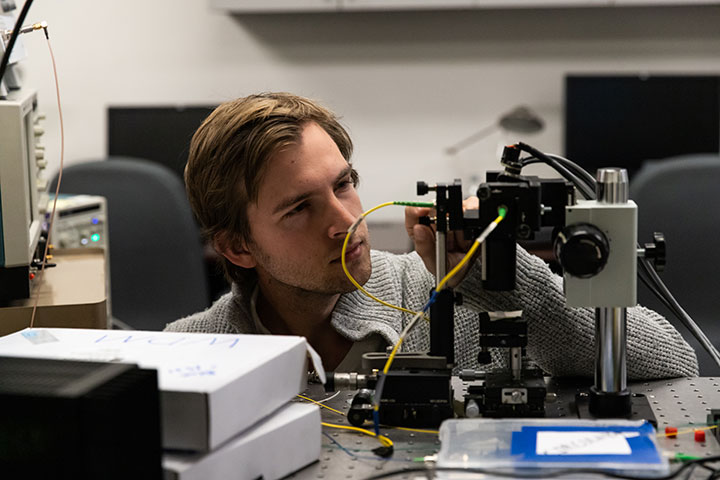 Electrical Engineering Undergraduate Accreditation
LMU's undergraduate electrical engineering program is accredited by the nonprofit agency ABET. Accreditation provides the assurance that our program meets the quality standards of the electrical engineering profession – meaning LMU graduates are setup for success the moment they receive their degree.