Seaver Spotlight with Annette Walker '79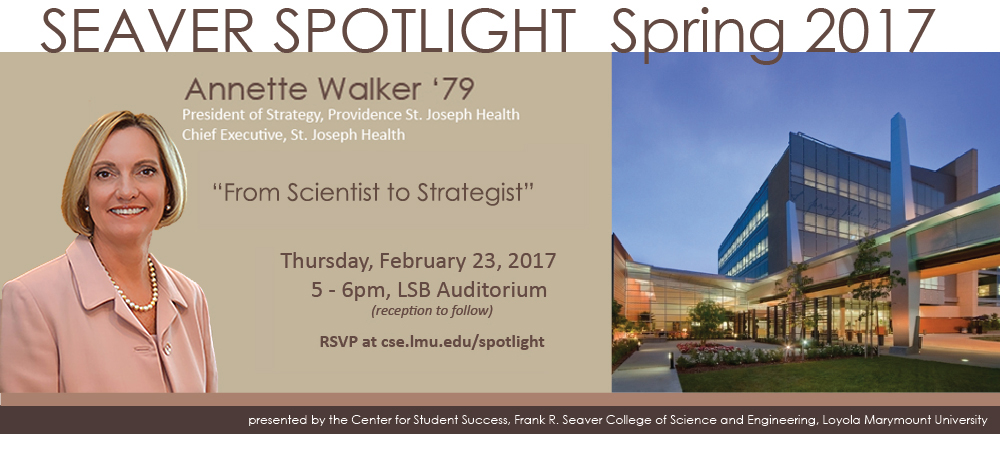 "In everything you do, put your whole self into the effort," says Loyola Marymount University alumna Annette Walker '79. "That's the way I feel about my career, my family and my spiritual life." Walker is a mother of six, grandparent of 10 and president of strategy for Providence St. Joseph Health, the third-largest health care provider in the nation, and chief executive of St. Joseph Health. A mentor to many, Walker is brimming with advice for students, not only about achieving a successful career, but also a successful life.
Many of the life lessons she espouses were learned at LMU, where she earned her bachelor's degree in biology.
"LMU follows the Jesuit tradition of training one to become a whole person – not just a technician," said Walker. "They aspire to create a thinking, whole person with spiritual, physical and mental dimensions."
Walker entered LMU with plans to become a physician. However, motherhood intervened her senior year.
"It was maybe the hardest thing I ever did, but the best thing I ever did," said Walker. "I was blessed to have support from the LMU community. Some of my professors actually babysat for me so I could attend class."
Upon graduation, she altered her medical school plans and became a clinical lab scientist – an unconventional, but practical, beginning for someone who would later become the strategist for a multi-billion dollar health care company.
"Today, I bring to my job so many of the skills I learned at LMU – problem solving, compassion, community building and more. I'm the caretaker of the organization who helps develop critical strategies which will transition the company so we can safeguard its future."
Her advice for ensuring a long and satisfying career? "I never said 'no' to an opportunity to learn something new. Also, remember that your life partner is the most important choice you'll ever make. It's a choice that affects so many other aspects of life. My husband is the best thing LMU gave me," she said.
In fact, Charles Walker '78 was the first person she met on campus. He helped her move in and there was an immediate connection.
Walker added, "Life may through you a few curveballs, but women need to trust their decisions, work hard, live and love fully. It's the best way we can honor all the gifts we are given."