Seaver Spotlight with Paul Viviano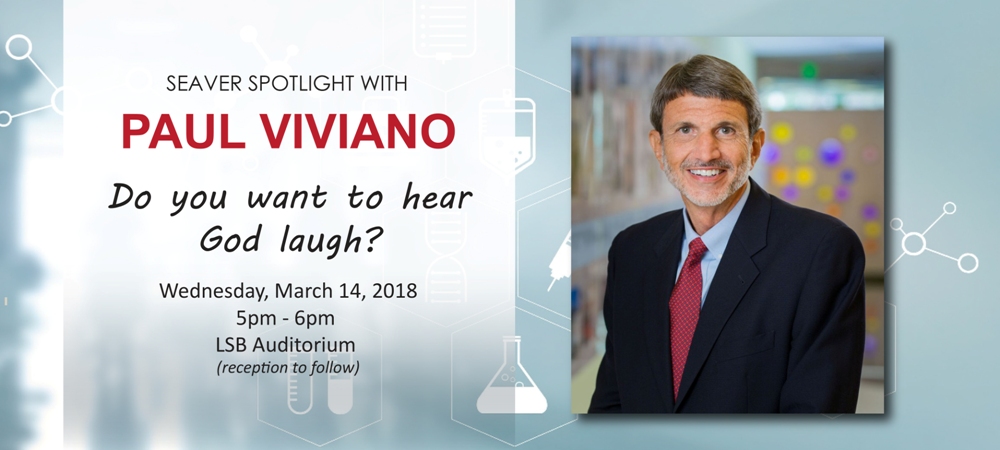 Paul Viviano Promotes Humanity in Health Care and Education
Children's Hospital Los Angeles made headlines last year when Jimmy Kimmel shared the story of his newborn son's life-threatening heart defect. The surgical team who saved the boy's life works out of the same hospital where Paul Viviano, chair of Loyola Marymount University's Board of Trustees, serves as President and CEO.
"It's not surprising that [Kimmel] came to [CHLA] … that wasn't the story," said Viviano. "The story that he told was: anybody — any child born in Los Angeles that night — if their family had no resources, with that diagnosis, would have had that same surgeon, that same cardiologist, that same room, and God willing, that same outcome."
On Mar. 14, Viviano spoke to a full house at the Life Sciences Building auditorium, addressing life, career paths, and his work both in health care and at LMU as a part of the Frank R. Seaver College of Science and Engineering's Seaver Spotlight speaker series.
Viviano explained that his talk title, "Do You Want to Hear God Laugh?" is not so much a question, but a joke waiting for a punchline: "Do you want to hear God laugh?" he asked. "The answer is, if you do, make a plan."
"There's no such thing as planning your career, in my humble opinion," shared the health care leader. As his graduation approached, Viviano couldn't decide on what would be a gratifying career. He had several options: law school and a doctoral program at the London School of Economics. He even had the opportunity to be an apprentice on a tugboat in San Francisco Bay and an assistant volleyball coach.
Bringing together his innate desire to help health care providers help heal others, his aspiration to a career in leadership and his observation that health care was a growing industry, he pursued his master's degree in public administration and public health from UCLA. "I theorized that I would have the opportunity to have a leadership position earlier in my career if I went into a growth sector."
For more than three decades, Viviano has served at the helm of major health care institutions across Southern California, directing nonprofit and for-profit health care organizations deliver excellence in clinical care, research, diagnostics, and now pediatric care.
"CHLA was established in 1901," he said. "It's about the same age as LMU, with a mission to create hope and build healthier futures for children."
It is exactly that mission that keeps Viviano working to support LMU's Jesuit vision. As chair, Viviano has helped the Board of Trustees maintain the university's wellbeing and provide ten students each year with full-ride scholarships.
According to Viviano, his LMU work complements his commitments to CHLA. He strongly supports the idea of working for and with others. Explaining his hospital's mission, Viviano said, "We never turn anybody away, regardless of their ability to pay. When we say that, it means we will take care of you until you are 18; we don't care if you have a green card, we don't care if you have $10; we are going to take care of you until you are 18."
"So in my spare time," he joked, "I get to be on the board here at LMU … a world-class university, driven by the values of this organization and our mission and our commitment to you, our students, our faculty and others."
"To have the blessing of working and serving in … two great organizations that are both iconic in Los Angeles, and institutions that are world respected, world renown, is really winning the lottery."